Over the course of a year, many people contact MARK9 because they are interested in search and rescue and want to learn more about the search and rescue training offered by MARK9. Additionally, people want to learn more about MARK9 itself. Having spoken and met with many such people, we at MARK9 have learned that many of the questions and concerns which people have are similar. To assist people who think that they might be interested in training with us, and to help avoid future misunderstandings, MARK9 has prepared the following Question/Answer Page for you to read and think about at your convenience. This Question/Answer Page sets out some basic information about search dog training and also lists a few of the general guidelines about training with us here at MARK9. We also have posted our Canine Air-Scent Wilderness Performance Standards for you to review and to learn what is required of a MARK9 certified dog and handler search team. Finally, you can join us at any regularly-scheduled MARK9 training session (although you will have to email us and be told where we are training as locations change week-to-week). Hopefully, all of these resources will answer your questions but please don't hesitate to ask any of us if we haven't covered something of concern or interest to you.

MARK9 is actively seeing new members as human ground searchers, as members of the overhead team to help manage searches and trainings, as well as caninine handlers.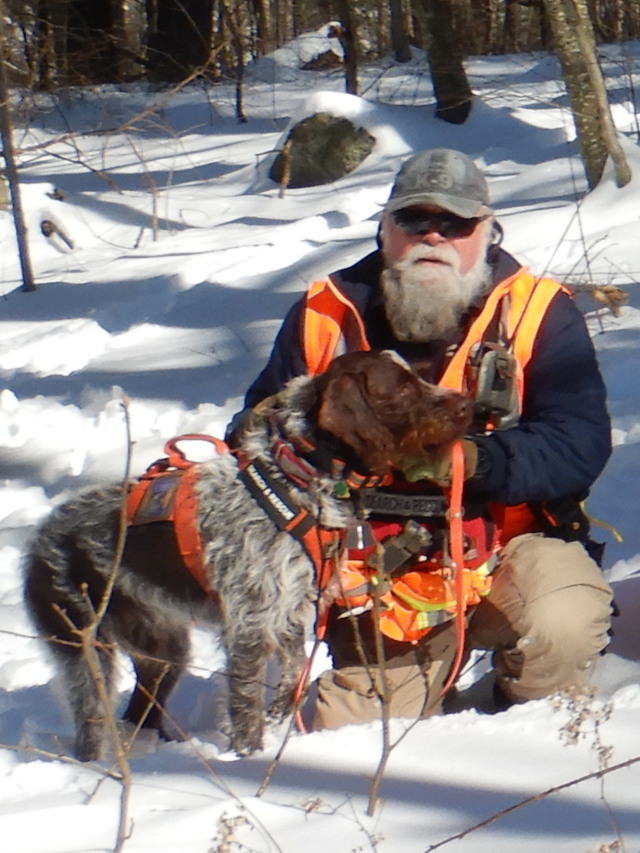 What is MARK9?
Massachusetts Rescue and Recovery K9 Unit, Inc. (MARK9) is a volunteer Search and Rescue (SAR) unit. MARK9 is a Participating Canine unit in MASSARDF, the Massachusetts State Search & Rescue Dog Federation. MARK9 is also a Qualified SAR Organization with Northeast Wilderness Search and Rescue, Inc. (NEWSAR), a regional training organization which maintains a database of trained search and rescue personnel in and around the northeastern United States. MARK9 is on-call 24-hours a day, 365-days a year to assist Law Enforcement Agencies, Fire/Rescue Agencies and other authorities having jurisdiction (local, statewide, and even nationwide) in emergency response situations to help find lost or missing people.
How can I join MARK9?
People who are interested in joining MARK9 must attend at least three but not more than five consecutive weekly trainings as observers only. After this initial observation period, if you wish to apply for membership, your canine (if any) will be evaluated relative to its aptitude for search and rescue training but no training will be provided for such canine. We require a waiver, which we keep on file, for all observers, and for anyone applying for membership, a background check form, which we pass on to the MA State Police (under the terms of the MSP Civilian Volunteer SAR Plan). During this observation period, you get to meet us and we get to meet you. While we will not start SAR-training with your dog (if you have one) during this introductory period, your dog will be evaluated relative to its aptitude for search and rescue training. We also will try to assign you to a more experienced SAR handler who can answer questions you might have. This handler will help evaluate your interest and your commitment as well as your dog's temperament and aptitude. During this introductory period, you will have an opportunity to work with other MARK9 handlers and get to know them too. Getting to meet us and to watch us train will help give you some idea whether you feel comfortable with MARK9's canine handlers and whether you like how we train our dogs. Every SAR organization trains their dogs in a manner they think is best. However, there are many SAR organizations and, as such, there are many different ways of training SAR dogs. MARK9 urges you to contact all of the different SAR organizations in your area and determine for yourself which organization best fits yours training philosophy. By attending several of our training sessions, you also will begin to understand the time commitment and the amount of work that is required to train a search dog and to become a Certified Canine Handler with MARK9. After observing us for up to five trainings, you will then be asked whether you want to submit an application to MARK9 seeking to be accepted into MARK9 as a Probationary member. Applications for Probationary member status shall be reviewed as soon as possible after submission. Voting Members will vote on all applicants with input from the Active Full Members. If approved as a Probationary Trainee, you will be invited to attend six months of scheduled training accompanied by your canine (if applicable) to attain the skills necessary to meet the qualifications and/or certification requirements established for Callout Qualification and to begin to attain the skills necessary to meet the qualifications and/or certification requirements established for Certified Handlers (if applicable). During this probationary six month period, MARK9 will work with you and your dog as you start the SAR training process and a more experienced SAR handler will be assigned to you and will help you to become Callout Qualified. A second vote will be made following the initial six (6) month period to decide whether to grant further participation to you as a Probationary Trainee, to decline further participation in MARK9 or to tentatively allow you another six (6) month period of time to develop and to begin to attain the skills necessary to meet the qualifications and/or certification requirements established for Certified Field Assistants and Certified Handlers. Following this second six (6) month Probationary Period, the Charter Members again will review your progress and vote as to whether to grant or to decline Active Membership status to you. While training to develop and to begin to attain the skills necessary to meet the qualifications and/or certification requirements established for Certified Field Assistants and Certified Handlers, all Probationary Trainees shall pay an annual processing fee in accordance with the By-Laws but shall have no voting powers and can hold no office. An applicant may be given Probationary Trainee status with or without a canine. Only Fully Operational Handlers are deployable in the event of an emergency response event. In working with this more experienced handler, your goal will be to become a Fully Operational Handler within two years.
What breed of dog should I use as a SAR dog?
There are over a hundred breeds of dogs and individuals of many of these breeds are capable of doing SAR work, and even excelling in this discipline. Most SAR dogs, however, come from the working, herding or sporting breeds -- but even certain breeds within these groupings are more suitable than others. Mark9 encourages and seeks out SAR prospects from such working breeds as the German Shepherd, Belgian Malinois, Border Collie, Golden Retriever, and Labrador Retriever, because the community has found that these breeds excel in search and rescue. However, many other breeds are also suitable and you will learn that SAR training demands much of a dog -- the dog must be able to work without handler support yet be very biddable. The SAR dog must have a great reward relationship yet not be aggressive in its demand for the toy or must be controlled when working around other dogs. The SAR dog must be agile and have great task endurance. Above all else, the SAR dog must be tenacious in its hunting drive and must be resilient in its ability to withstand rough footing and adverse weather and long hours of work. In short, a SAR dog is a performance animal and not all breeds of dogs -- and not all dogs within a breed -- have the temperament, and the talent, to do the work required. Given the commitment you will make, and the hundreds of hours you will invest in training this dog, it is heartbreaking to work with a dog that does not have the drives appropriate for this work. (We say, in such cases, that the dog is just not "raising his paw for SAR."). So, it is very important to select a dog that will be up to the demands asked of it. Dogs at the extreme ends of the size range (i.e. very small or very large) also tend not to be well suited for this work. The canine-candidate does not have to be a purebred but one advantage of working with a dog with a known pedigree is being able to look at the parents of that dog as a guideline for its temperament and working ability. It is a good idea if you don't already own a dog is to come out to a MARK9 training session to observe different breeds before you make up your mind about a given breed or particular dog. Watch what it is that your dog will be asked to do. Talk to different handlers about the pros and cons of their breed in doing search work -- certain breeds may have inherent traits and talents that make them easier (or sometimes more difficult) to train than other breeds. Anyone who has been working with SAR dogs for any length of time has learned a great deal about what is important in a SAR dog and you can gain much by listening carefully to what these more experienced handlers have to say. However, if you are set on a particular breed, you will have a much better chance of success in purchasing a dog that will be able to do the work by buying from a working line and not a show line. Also, you should investigate any genetic diseases inherent in your breed and take all steps possible to ensure you purchase your dog from a bloodline that appears clear of genetic health problems that tend to occur in your breed. A reputable breeder should be able to answer any questions you have about health problems within their bloodlines, as well as the potential working ability of their dogs. Again, you don't want to put years of hard work into training a dog just to find out later that it is not capable of doing the work due to a genetically-linked disease. And, you want to start with a dog that has as much potential as possible to do the work -- and for as long as possible!
Must I start with a puppy or can I work with the 4-year old dog I currently own?
Yes . . . and no. The old maxim that "ya' can't teach an old dog new tricks," just ain't so. Any SAR organization that understands the "Laws of Learning" and has a good system of SAR dog training should be able to put a solid SAR foundation on any dog, young or old, that has the drives appropriate for the work. In fact, SAR training sometimes moves quicker with an older dog than it does with a puppy whose ability to focus and whose limited strength and coordination have to be factored into early training sessions. Additionally, older dogs who have in place an established reward system, and who have a good handler/dog communication system, and who understand the learning process and are not threatened by the demands of learning something new (ie, the dog "loves to learn"), can move very quickly through the initial foundational SAR training (although a dog will become "solid" and will "generalize" only after many, many, many hours of training and proofing). And so, it is very possible for older dogs to learn "how to be a SAR dog" and, in fact, some of us at MARK9 started our SAR-careers with the dogs that we "just happened to have at the end of our leashes." Often these were dogs that were older and already had a successful previous career or two. Or, they were younger dogs that were just "sitting around at home" and "we wanted to give them something to do." Some of these dogs turned out to be "super" SAR dogs . . . but not all of them did and, while these dogs may have been wonderful in other canine-training environments, they just did not have the drives appropriate for SAR. Or, because of the age at which these dogs started, the dogs were near retirement by the time they became operational. Despite their "shortcomings," each of these dogs taught us a great deal during the years that we were starting out -- and it truly can be said that that dogs which are "training-challenges" teach one more about how to train a dog than do the dogs that just come out and "naturally" do whatever it is that we want them to do. So, all of us at MARK9 have benefited working dogs that others would consider marginal. And, we each understand the "first-dog-syndrome" that makes new handlers want to work with their much loved pet, or former working dog. However, MARK9 canine handlers also have developed over the years and MARK9 now encourages new trainees to start out with a young dog or puppy with a strong aptitude for SAR for several important reasons:
Most dogs can learn to do adequate SAR work but the dogs with drives appropriate for the work make great SAR dogs. And, while there is NO perfect dog, each of us at MARK9 has seen the brilliant dog work. We have all seen the rubble dog that sails over the tough, voidy concrete piles and easily targets in and alerts on primary scent. We have all seen the bold, far-ranging wilderness dog that independently locks on a scent plume and zigzags along its edges until it finally arrows down the middle to the hidden subject. We have all seen the beauty and power of the driven, trained SAR dog and know the joy of working with such dogs. We want you to have the joy of working such a dog too and so we will be honest in our assessment of your dog.
Younger dogs or puppies will likely not have acquired unsuitable habits or behaviors that may have to be untrained (and prior bad imprinting is the number one reason that some older dogs are not successful, despite intensive re-tooling). And, it is often easier to imprint desirable behaviors into a puppy than into an older dog. When one purchases a puppy, however, one is never certain of "how that puppy will turn out as an adult" and whether that puppy will have the drives appropriate for this work. Some handlers avoid this problem by purchasing an animal that is 1 to 1 1/2 years old -- that way the drives of the particular dog can be evaluated instead of "waiting" to see if that "special puppy" grows up to have the drives. Whichever route you select, we encourage you to start your SAR career with a young dog or puppy that is truly "raising its paw" for the type of SAR work you want to do.
MARK9 puts tremendous resources and commitment into the training of each SAR dog on its roster. However, we are all volunteers with family obligations and work demands that impact the time which MARK9 handlers have available to work with the many people that seek us out each year. Therefore, MARK9 needs to maximize its resources by working with those dogs which we think will be solid performers at the end of its training. And, while we all might want to work with every dog that comes to one of our trainings, MARK9 needs to be selective. As harsh as this sounds, MARK9 is not a "dog training club." We do not charge for our services and we do not train people "just" to train people "how to do SAR." Rather, we are a volunteer emergency services organization which is committed to training people who will become our team members and who will be a valuable SAR resources in the event of a search emergency involving a lost or missing person. And, we will put enormous effort in to helping you become such a valuable public asset.
Finally, we will be selective and we will encourage you to select a dog with drives appropriate for the work because we firmly believe that "the victim deserves more than adequate." A search for a missing person is a true emergency and finding that person quickly can mean the difference of life . . . and death for that person. We at MARK9 believe that you honor all missing and lost people by only working with dogs with the drives appropriate for the work. And, because of the time MARK9 invests in you and your dog, you honor MARK9 by beginning training with a young dog or puppy with drives appropriate for the work in order to maximize the chance of that dog having a long and successful working career with MARK9.
I currently own two dogs and both would make wonderful SAR dogs -- may I work with both?
New handlers often ask whether that can train more than one dog at the same time for SAR. As much fun as it is to train a SAR dog, the answer is "no, not until you successfully certify your first dog." And, we take an especially dim view of anyone trying to train their second dog "all on their own." As we explained above, it takes a great deal of time and commitment to train even one dog and your dog will be a reflection on MARK9 -- so we want to do all we can to ensure that your dog gets the proper training, under thoughtful guidance. So if you have more than one dog, we will ask that you concentrate on, and just work with, one dog. We can help you evaluate which dog would make a better candidate for SAR work.
How long does it usually take for my dog and I to finish our training?
If you have trained dogs before, especially SAR dogs, then training progresses much faster than if this is your first SAR dog. But, even for experienced handlers, dogs often "dictate" how quickly training progresses. Different dogs learn at different rates -- and even a given dog will learn some things quicker than they will other things. So, progress is often dependent on the dog's ability to absorb what we want it to do and then to be motivated to perform that behavior independently. But, in general, the training of SAR dog can take up to 1 1/2 - 3 years. And, of course, you too will need to gain a range of skills related to land navigation, ground search tactics, and search management before you and your dog become fully operational.
What are the skills which I will need to learn?
You must learn CPR and take a "Basic First Aid" or "First Responder Course," or equivalent. Here, in Massachusetts, both the MASSARD Federation and NEWSAR, require that any person interested in responding to SAR emergencies have acquired skills equivalent to a NASAR SARTECH-II. Therefore, before you can be deployed in the field, you must pass certain Training Certification Modules including, but not limited to, map and compass, POD estimation, radio communications, search strategy, scent theory, basic first aid and canine first aid. MARK9 will assist you in acquiring these skills and testing you but previous outdoor experience and/or medical training will be beneficial.
What will I be training my dog to do?
The type of training your dog receives will be somewhat dependent on which search specialty you choose. MARK9's primary focus when it first formed was to train live-find wilderness air-scent dogs that perform a bark alert or refind. Additionally, MARK9 handlers train dogs in other SAR specialties such water and human remains detection. MARK9 believes in "Specialty Dogs," but there is much overlap in the training of any dog, regardless of the search specialty selected. For example, all dogs must be well socialized, agile enough to safely negotiate obstacles in the wilderness and/or in disaster rubble. The dog must be able to swim if you want to do water training. You may achieve certification in other disciplines such as cadaver or water searches, after you are certified in air-scent wilderness or trailing. Alternately, you may elect to "specialize" in one discipline and MARK9 will help you understand the different specialty areas available. Whatever area you select, however, you will find that there are many different ways to get the same results. We encourage you to stay with one method until you achieve some success with that method and not to skip from one method to another just because it seems easier or because someone tells you their method is better. Skipping around not only confuses you, but it confuses your dog. So, please try to stay with one method unless you find it is totally impossible for you to attain your goals. If you have never trained a dog before, it will be helpful to read a good basic dog training book that explains "how dogs learn." A couple of books that contain wonderful insights into "how dogs learn" include:
Don't Shot the Dog (Karen Pryor 1985)

The Culture Clash (Jean Donaldson 1996)

Excel-Erated Learning (Pamela Reid, Ph.D 1996)

Smart Trainers Brilliant Dogs (Janet Lewis 1997)
You should also take a basic obedience class on your own. When you start training, you must begin keeping a training log of all your training sessions with you and your dog. This will help you keep up with the progress of your dog as well as to identify any problems or difficulties that may arise. Most of what you will learn about training your dog will come from actual MARK9 training sessions as well as input from fellow members and especially the canine handler that has been assigned to work with you. However, your ultimate success will mostly be determined by the amount of time and effort you put in. Finally, please don't let your dog run around loose unless it is working. If other dogs are tied up or under any kind of obedience command, don't let your dog bother them. Some dogs will naturally protect their vehicle or the area where they are tied. Above all, your dog must learn to be very obedient and should always be under your control!
I really want to be a SAR canine handler but is all this time consuming?
Yes. Expect to train 2-3 times a week (including night training) with MARK9. Consistent, regular training is the key to having a dog that understands what is expected of it. You can do some training on your own, but there is no substitute for training with MARK9 at its regularly scheduled trainings. Not only do you learn more about how to train your own dog by working regularly with us, but a great deal can be learned by watching other dogs work. To make it convenient and to ensure that our rostered-dogs receive adequate training, MARK9 offers two nightly trainings and weekend trainings in varying locations. You will be expected to attend as many trainings as possible during your training (and attendance of at least four trainings per month of regularly-scheduled MARK9 trainings are required as "sign-offs" prior to becoming field qualified). When you become a Certified Canine Handler, you will still need to continue to train regularly to keep your basic skills sharp and to assist in the training of other rostered-dogs. Callouts for actual searches tend to occur in the middle of the night. And, because MARK9 responds to calls throughout the Commonwealth, you may be called to a search in other areas of the state than the area in which you live. Though you are not required to go on all searches, we are on-call all day and night every day of the year. The most effective dog handlers today are searchers first, and dog handlers second.
Is this expensive?
Yes. Since this is a volunteer organization, you pay for all your required equipment. That includes sleeping bag, backpack, hiking boots, rain gear, wear and tear on your vehicle, gasoline, etc. NASAR recommends that you have sufficient gear to be self sufficient for "at least three days" in case you are deployed deep into the wilderness but we have never found that to be necessary here in Massachusetts where the Red Cross and the Command Centers supply all response personnel with food and lodging. You will, however, need to come prepared with your own field equipment and a sleeping bag and this amount of equipment must be purchased prior to your first certification test. MARK9 will provide you with a list of the equipment it requires. Because this is a volunteer organization, many of your expenses may be tax deductible, so please consult your tax advisor to determine if you qualify for any tax deductions.
Some final comments.
One thing you must realize is that we are all here to help each other in our training. MARK9 is not a dog training club. We will help you and your dog get the training, instruction and advice you need to become Certified Canine Handler. You can help your fellow MARK9 members (and are expected to) by being a "subject" for our dogs during training sessions. If you have some expertise to share with the group, please let us know. We train in all kinds of inclement weather because searches often occur in rainy or stormy weather. You will find that training sessions are the time to try out your new outdoor gear and not on a real search. Good raingear is very important. If you are asked to participate in a longer search training session (e.g. being a "subject" for up to 4 hours), please bring proper gear and clothing for the weather. Being cold and wet for several hours is no fun and possibly dangerous. Proper clothing, a ground cloth, a sleeping bag, and enough food and water can make being at a training session or a test "subject" a more pleasant experience. It is very valuable to walk with different Certified Canine Handlers (as well as other less experienced members) in their training sessions to watch them work. You can learn a lot by observing and asking questions. We are always willing to share what we know with you and often your observations and questions help us learn too.
A word on physical fitness: If you have any physical handicap or problem, it is best to consult with your physician to make sure s/he approves of this activity. You definitely need to be both physically fit and healthy. Searches can potentially last up to 12 hours a day for several days and be located in areas of very rough terrain with inclement weather. So mental as well as physical fitness is a must. Remember, on a search, you are there to help find subjects, not become a victim yourself. The MARK9 Fitness Test must be completed prior to your becoming Fully Operational. The MARK9 Physical Fitness Test consists of her demonstrating the ability to hike three (3) miles with a Field pack (including water for handler and canine) in under two (2) hours).
Final Points to consider before you decide to train!
SAR training is a long, expensive and time-consuming process. All of the current members of MARK9 have made a serious commitment to mastering the skills that are required of a valuable SAR resource. In order to make this commitment, support of your family and friends is necessary.

Emergencies typically occur in dangerous or difficult terrain. As a result, the area that you will be assigned on a real search will likely be steep, brushy, muddy, covered with poison ivy or snow. You may be asked to search when the temperatures are very high and humid, or bitterly cold. When searching your segment, you will get hot or cold or wet and tired and dirty and will wonder why you are out there. To perform your best under such adverse conditions, you will need to be emotionally and physically strong.

A great deal of your training will occur at night. Before deciding to train with us, you will have to decide if you are comfortable going out in the woods at night with just your dog and maybe one other searcher? You will have to determine whether you are afraid of snakes, ticks, spiders - or bigger "residents" of the woods?

A positive attitude, confidence in your abilities, self-reliance and being able to evaluate if you are capable to do "the search" is a must.

Attitudes "travel down the leash" and you will need to control your emotions if you want to be a good SAR dog handler.

MARK9 responds across the Commonwealth of Massachusetts and you may have to drive several hours to a search (and then find out that the subject has been found).

You must be ready to deal with finding deceased subjects.

You may not know when you will return home and your employer will need to be ok with this.

Honesty and accepting constructive criticism are necessary.

A search is a life-saving (hopefully) emergency and egos and personal prejudices have no place in this.

There are always potentials for risks to you and your dog.
Still interested in joining?

Please send an email to Paul J. Morris to set up a time to come and observe the team training. After observing the team as described above, you may be extended a membership application.