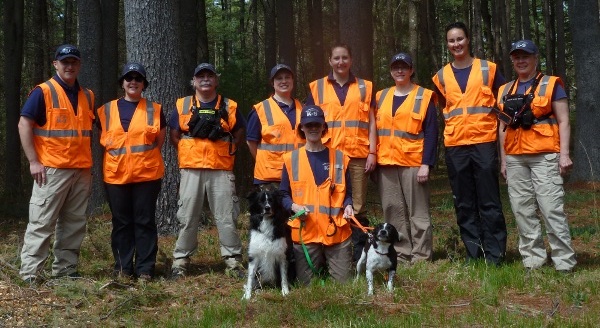 Massachusetts Rescue and Recovery K9 Unit
MARK9 Officers & DIRECTORS
OFFICERS
PRESIDENT:
Paul J. Morris
VICE PRESIDENT:
Dale Chayes
CLERK:
Paul J. Morris
TREASURER:
Jessica Cranney

TRAINING DIRECTORS

Canine Training Director
Paul J. Morris
Ground SAR Training Director
---
MARK9 Members are listed below. Please click on each Member's name to learn more about that Member and their dogs. Other photos can be seen at the MARK9 Photo Gallery.
| | |
| --- | --- |
| Kathryn Barrows | MARK9 |
| Tyler Bresse | MARK9 (Served Agency Liasion) |
| Dóra Cserna-Nyírő | MARK9 |
| Dale Chayes | MARK9 |
| Kevin Conley | MARK9 |
| Jessica Cranney | MARK9 |
| Sophia Evans | MARK9 |
| Denise Feryermuth | MARK9 |
| David Fortini | MARK9 |
| Matt Hesek | MARK9 (Safety Officer) |
| Jenny Kuhn | MARK9 |
| Craig Lambert | Probationary |
| Jeff Lamson | MARK9 |
| Kelly MacLean | Probationary |
| Paul J. Morris | MARK9 |
| Sena Oran | MARK9 |
| Charlie Orr | Probationary |
| Ellice Osborn | Probationary |
| | |
Responding to people in distress has long been an honorable, charitable tradition. MARK9 consists of a dedicated team of professional volunteers who carry on this tradition by donating thousands of hours to train their dogs for the sole purpose of helping others in times of need. All members are required to have a minimum of Basic First Aid and CPR. Many members have additional training, such as EMTs and Paramedics. All of our dogs are owned by their handlers and all costs incurred during training and responding on missions is the sole responsibility of the handler.
---
If you are interested in sponsoring our team, please see the "How You Can Help" Page.
For membership opportunities, contact: Paul J. Morris at president@mark9.us
---
We, the members of MARK9, commit to provide high quality emergency response and to excellence in our performance at all times.
We , the members of MARK9, commit to "working for the victim" through an organized and professional search and rescue canine training and response program.
We, the members of MARK9, maintain excellence by constantly evaluating and improving the performance of our dogs and our ability to respond to emergency situations.
We, the members of MARK9, accept responsibility for and hold each other accountable for achieving this mission.
Our heart is in our service.
---